Constructability and Model Quality
Before you begin the construction, it is extremely important to be sure that the building is in fact constructable. Because, if it cannot be built digitally, you will not be able to build it in real life. You will save a lot of money and time if you realise this before you start laying the foundations.
In modern construction, builders use 3D-models not just to make 2D-plans for the execution. Instead, they also use 3D-models – with great success – to calculate quantities, to give more accurate price estimates, and to schedule the construction itself. For this reason, having high-quality 3D-models is exceedingly important.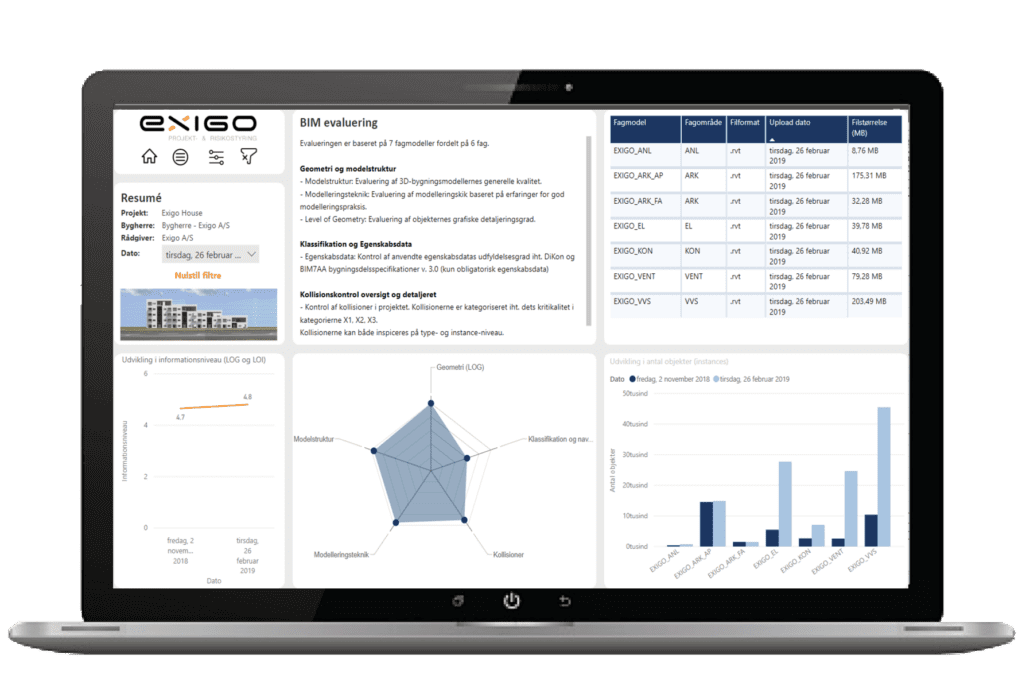 1
Criteria and parameters of the BIM-evaluation
2
Overview of the 3D-models that are part of the BIM-model and have been inspected.
3
Graph of Level of Development (LOD). Is the level rising as it should?
4
Which criteria does the model meet and which areas need additional work?
5
Number of objects in each model over time. Your models should get more detailed with time. Do they?
Get an overview of the quality of your 3D models and their constructability
Exigo offers consulting services in relation to Building Information Modelling (BIM), where we, for instance, check the quality and constructability of your 3D-models. As an impartial third-party advisor, we can inspect the quality of your architect or engineer's models.
You can also read more about how we can give you an overview of the time and finances on your project.
When we perform constructability tests on your 3D-models, you see the results visualised in a dashboard of the Exicute Cloud Platform.
There, you can keep track of:
how many errors we find in each model and where
which elements you modelled or named incorrectly
which parts of the models have many clashes and the severity of these clashes
the Level of Development (LOD) of the models
The dashboard updates continuously. So, you can keep track of the progress in the quality of your 3D-models. This allows you to take action if the quality does not improve.
BIM-Evaluation and constructability analysis
Unfinished or undetailed 3D-models are only for show.
If you want to use 3D-models for planning and coordinating your construction project, it is important that the models you use have the right level of detail. In other words, they must properly integrate the various disciplines and have as few clashes as possible.
We have developed advanced computer systems, which can automatically sort the results from the digital clash test. This means that our control is now four to five times as quick compared to old methods, which your consultant is probably using. Because of this, we can keep you updated with information about the real progress and level of coordination. This can be done weekly or monthly without it costing the world.
Clash Tests
Before we perform clash tests, we make sure to coordinate 3D-models of each discipline (plumming, ventilation, architecture etc.) properly and to run cross-model clash tests. This way you avoid unpleasant surprises on-site as well as fights over responsibility.
In the dashboard you can keep track of how many clashes we find, where exactly in the building they are located, and how critical they are.  As a result of having a distinct clash-marker it is easier for contractors to get started fixing the clashes.
We divide the clashes into three categories:
minor collisions (X1)
significant collisions (X2)
severe collisions (X3)
Modelling technique
It is important that you design 3D-models exactly as they are meant to be constructed in real life. Otherwise, they will be useless as working models.
For this reason, our BIM-evaluation includes an analysis of the modelling of joints, layering and placement of elements.
We follow up continuously. Therefore, you will always be able to keep track of progress in Exicute Cloud Platform's dashboard.
Level of Development (LOD)
Do your 3D-models have the required level of development?
For each phase in the preparation of the project material, we inspect the level of information included in each discipline's 3D-model. The dashboards of the Exicute Cloud Platform visualize the results of this inspection in the form of a graph showing 'current level' and 'required level.'
Consequently, you know exactly which models are reliable and which models need work.
Structure, Classification, and Coding
The usefulness of a 3D-model for construction is based on a sound foundation of proper structure, classification and coding of property-data. So, the sooner you get this in order, the better your final project material will be.
When we evaluate the structure, classification, and coding, we check if you named objects in a logical manner and if you classified them according to the standard you selected.